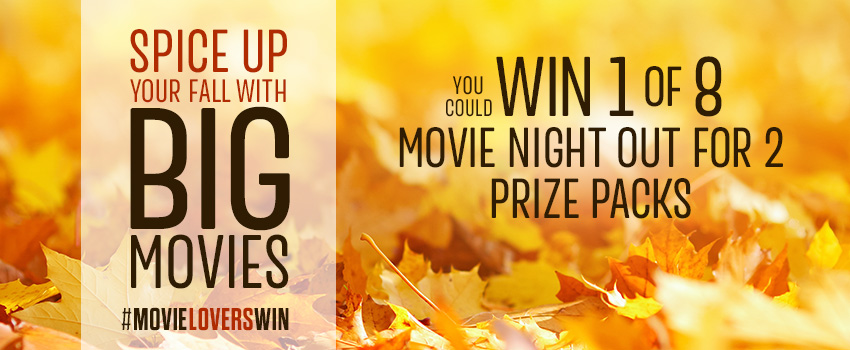 Spice Up Your Fall With Big Movies
Fall is here and so are the movies you have been waiting for. Enter NOW for your chance to WIN 1 of 8 Movie Night Out Prize Packs which include:

2 General Admission

2 Medium Fountain Drink

2 Medium Popcorn

Contest Rules
LANDMARK CINEMAS CANADA
SPICE UP YOUR FALL CONTEST
RULES & REGULATIONS (the "Rules")

HOW TO ENTER
Landmark Cinemas Canada "

Spice Up Your Fall

"

Web Contest (the "Contest") is conducted by Landmark Cinemas Canada Limited Partnership (the "Sponsor"), and is only open to individuals over the age of 18 as of the date of their entry into the Contest and who are legal residents of BC, AB, SK, MB, ON, and YT, except (i) the employees of Landmark Cinemas Canada, its affiliates, each of their licensors associates, and participating Landmark Cinemas Canada locations, and each of their respective advertising and promotional agencies, prize suppliers and its affiliates, and their respective agents or representatives; (ii) contest judges; and (iii) persons domiciled with any of the above or members of the immediate family (defined as parents, siblings, children and spouses, regardless of where they live) of any of the above. The entities listed in (i) and (ii) shall collectively be referred to as the "Group." If a participant is an eligible minor in his or her jurisdiction of residence, his or her parent or legal guardian must consent to such minor's entry and hereby agrees to these Rules along with and on behalf of his or her minor child. All rights and responsibilities of a minor under the Rules are conferred and assumed respectively by the minor's parent or legal guardian in representation of the minor.
To enter the Contest during the Contest Period (as defined below),

visit our website

http://www.landmarkcinemas.com

, click on the

'

Spice Up Your Fall

page, and fully complete the "

Spice Up Your Fall

Contest" entry form during the Contest Period.

On the entry form, you will be required to provide your first and last name, date of birth, email address, and answer the question "What movie are you most excited to see this Fall?"
There is a limit of one (1) entry per person/email address per day permitted during the Contest Period. For the purpose of this Contest, a 'day' will run from 12:00:01 am (MT) to 11:59:59 pm (MT). For greater certainty, you can only use one (1) email address to enter, or otherwise participate in, the Contest. If it is discovered that you have attempted to: (i) obtain more than one (1) entry per person/email address per day during the Contest Period; or (ii) use more than one (1) email address to enter, or otherwise participate in, the Contest; then (in the sole and absolute discretion of the Sponsor) you may be disqualified from the Contest and all of your entries are subject to disqualification by the Sponsor. Your entry will be rejected if (in the sole and absolute discretion of the Sponsor) the entry form is not fully completed and submitted during the Contest Period. Use of any automated, script, macro, robotic or other program(s) to enter or otherwise participate in this Contest is prohibited and is grounds for disqualification by the Sponsor.
The sole determinate of the time for the purposes of a valid entry in this Contest will be the Contest server machine(s).
By entering the Contest, each entrant affirms that all of the information listed in his or her entry is complete and correct. All entries that are incomplete, have been submitted through illicit means, or do not conform to or satisfy any condition of these Rules may be disqualified. Automated entries will not be acknowledged.
This Contest begins at 12:01:00 am (MT) on September 10, 2018 and closes at 11:59:59 pm (MT) on November 15, 2018 (the "Contest Period"). NO PURCHASE NECESSARY. If you choose to enter the Contest using a mobile phone, standard data fees may apply; no other costs or other obligation will be incurred by entering the Contest.
Any personal information submitted will be used solely for the purposes of administering this Contest, including sharing the personal information of the winner with any prize supplier, in accordance with Sponsor's privacy policy available at www.landmarkcinemas.com.
ENTRY GUIDELINES
By participating in the Contest, each entrant agrees to be bound by these Rules and by the interpretation of these Rules by the Sponsor, and further warrants and represents that the entrant he/she has all the necessary rights to enter the Contest. All decisions by the Sponsor will be binding and final.
ODDS
The approximate odds of winning a Prize depend upon the total number of eligible entries received during the Contest Period.
PRIZE DRAW SELECTION AND PRIZE DESCRIPTION
On August 13 at approximately 10:00 am (MT), 3656 60 Ave SE, Calgary, AB T2C 2C7, Calgary, Alberta, the official contest computer will randomly draw three (3) entries

from all

entries received

to identify draw eight (8) potential winners of the prizes described below (each a "Prize").
Grand Prize
The first eight (8) entries drawn will be eligible to win a Landmark Cinemas Fall Prize pack which consists of two (1) Movie Night Out Vouchers. Each Voucher is good for one (1) General Admission, one (1) medium fountain drink and one (1) medium popcorn. Prize Value of $50.00
Grand Prize must be accepted as awarded and may not be substituted, transferred or redeemed for cash or otherwise. Sponsor reserves the right, at its sole discretion, to substitute a prize of greater or equivalent monetary value if the Grand Prize or any portion thereof cannot be awarded for any reason. Sponsor will not replace any lost or stolen components of the Grand Prize.
If any individual under the age of majority in the province/territory of their residence wins the Grand Prize, the Grand Prize will be awarded to the parent or legal guardian of the selected entrant, provided such parent or legal guardian accepts the Grand Prize as awarded, and complies with these Contest Rules.
GENERAL
In order to win a Prize in this Contest, the selected entrant must first correctly answer without assistance or mechanical aid, the mathematical skill-testing question administered by the Sponsor, and otherwise comply with these contest Rules
The Sponsor will email the potential winner of the Contest. If a potential winner does not respond to the Sponsor's attempt to contact them within seventy-two (72) hours, he/she will be deemed to have forfeited his/her chance to win a Prize. In the event that the potential winner is disqualified for any reason, the Sponsor may award the applicable Prize to an alternate winner in a random drawing from among all remaining eligible entries. Only one (1) alternate potential winner may be drawn after which the prize may not be awarded.
None of the Group shall be responsible in any way for the use of, or bear any liability whatsoever in any way attributable to any Prize awarded in this Contest or the events forming part of this Contest. The Group and each of their officers, directors, employees, affiliates, related entities, partners, partnerships, principals, representatives, agents, licensees, sponsors, successors and assigns (collectively the "Releasees") (i) make no warranty, guarantee, or representation of any kind concerning any Prize, (ii) disclaim any implied warranty, and (iii) are not liable for injury, loss or damage of any kind resulting from the acceptance, possession, use or misuse of any Prize, or from participation in this Contest. Without limitation, the Releasees will not be liable for (i) any technical malfunction, slow down, interruptions, disconnections or other problems relating to the telecommunication network or lines, network servers, access providers, computers, devices, mobile phones or mobile phone software; (ii) for the failure of any entry submission to be received by the Sponsor, their advertising or promotion agencies for any reason including, but not limited to, technical problems or traffic congestion on the telecommunication network; (iii) any damage to an entrant's mobile phone, device or computer resulting from participating in this Contest; (iv) any unauthorized human intervention in any part of the Contest, (v) any technical or human error which may occur or arise or may have occurred in the Rules or in the administration of the Contest; or (vi) any charges entrants may incur in connection with participating in the Contest. If for some reason an entrant's entry is confirmed to have been erroneously deleted, lost, or otherwise destroyed or corrupted, entrant's sole remedy is to submit another entry in the Contest, provided that the Contest has not been completed.
There is a total of eight (8) Grand Prizes to be won. Each may be referred to in these Contest Rules as a "Prize", or collectively, the "Prizes".  The Grand Prize Winner may be referred to in these Contest Rules as a "Prize Winner", or together, the "Prize Winners"
All entries become the property of the Sponsor for any and all purposes. None of the Group will be responsible for entries delayed, stolen, misdirected, lost, destroyed, illegal, or incomplete.
Before being declared a Prize Winner, the selected entrant must first demonstrate they are the owner of the email account associated with the winning entry by signing a declaration confirming understanding, compliance with, and acceptance of the Contest Rules and acceptance of the Prize. Each Prize Winner and Guest (as applicable) must also sign a publicity release and a release of all liability arising directly or indirectly out of the Contest and the applicable Prize satisfactory to the Sponsors (a "Release"). Winner must agree to look to the manufacturer of any Prize for any warranty issues, not the Sponsor. By accepting a Prize, the winner agrees to use of his or her photograph, name, address, likeness, voice, and statements in any publicity carried out in connection with the Contest, the Prize, or awarding of the Prize by the Sponsor, its suppliers and their affiliates, agents or such other designated parties without remuneration.
Entries received after 11:59:59 pm (MT) on the Contest close date of November 15, 2018 will be considered null and void. Entries shall be subject to verification and shall be null and void if they are found to have been tampered with in any way, or not obtained in accordance with these Contest rules.
The Contest is subject to all applicable Federal, Provincial, and Municipal laws and regulations and shall be governed by the laws of the Province of Alberta and the Federal laws of Canada applicable therein.
The right is reserved to withdraw or terminate this Contest at any time without prior notice.
NO PURCHASE NECESSARY. Open to residents of BC, AB, SK, MB, ON, and YT, 18 years or older. Limit one (1) entry per person per day. Mathematical skill testing question required. Odds of winning are dependent upon total number of entries received per theatre location by 11:59:59 pm (MT) on November 15, 2018. There is eight (8) Landmark Cinemas Movie Night Out Prize Packs. Prize Value is $50.00
This Contest begins at 12:01:00 am (MT) on September 10, 2018 and closes at 11:59:59 pm (MT) on November 15, 2018.
//end Contest Rules