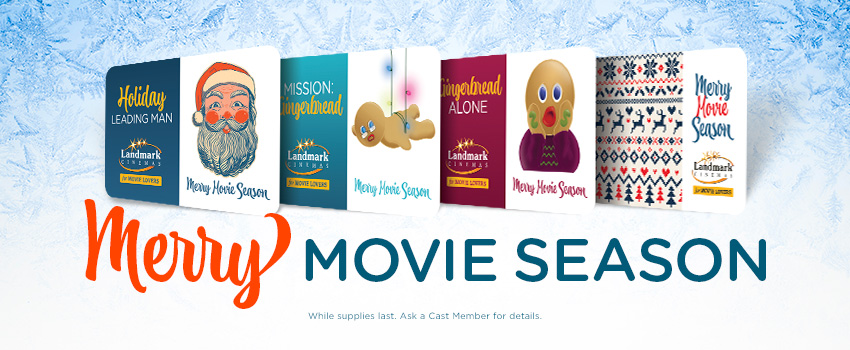 Redeem your Buy 30 Get 30 Coupons now
Jan 6 to December 31 2021, Redeem these sweet offers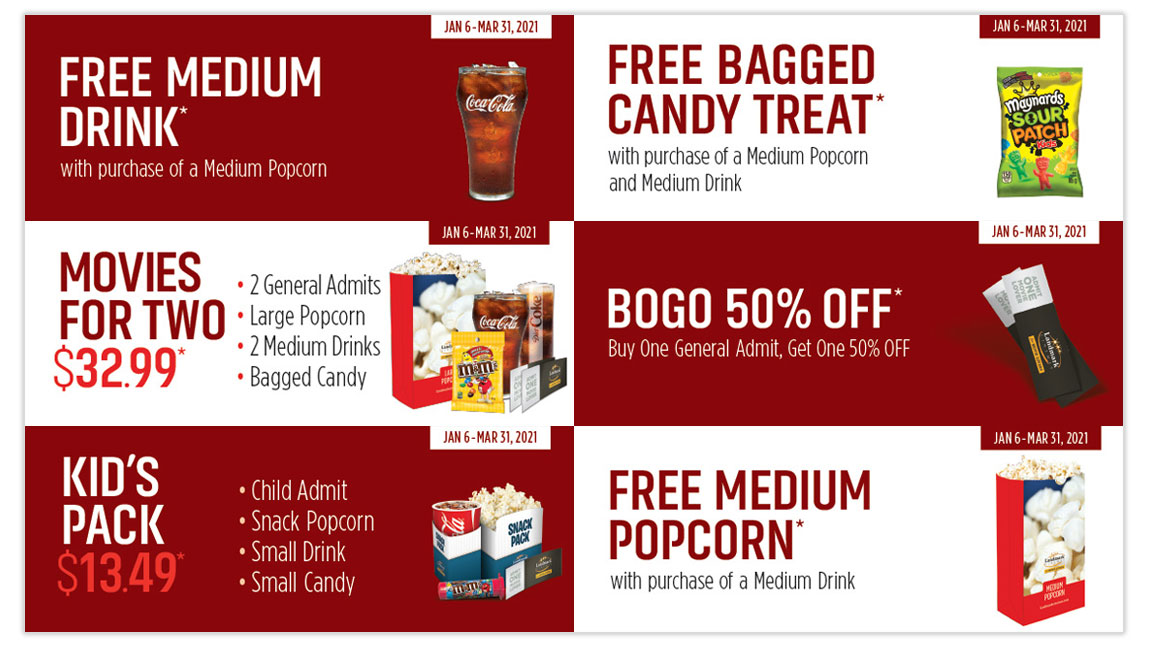 MOVIE LOVERS FAQ
These are the answers you're looking for
When can I redeem my Buy 30 Coupons?
January 6 - December 31, 2021
Can I redeem my Buy 30 Coupons online?
Yes. Our admission-based coupons can be redeemed exclusively at landmarkcinemas.com. These are our BOGO 50, Movies for Two @ $32.99 + tax, and Kid's Pack @ $13.49 + tax coupons. All other coupons are redeemable exclusively at your local Landmark Cinemas..
Can I redeem my Buy 30 Coupons on the ATOM App?
No. LandmarkCinemas.com or at your local Landmark Cinemas only.
How do I redeem my admission coupons online?
Go to LandmarkCinemas.com and complete these steps:
1. Select SHOWTIMES from the navigation bar (option at top of the page)
2. Select your LOCATION
NOTE: If location is already selected and it's NOT the one you'll be visiting for this movie night out, simply select CHANGE LOCATION to switch to a different location

3. Select DATE desired for your movie night out
NOTE: Date selected must be between January 6 – March 31, 2021 to redeem your Buy 30 coupon
4. Select desired movie, format (regular, RealD 3D, etc.), and showtime
This will take you to Step 1 of the Checkout Process
5. In Step 1 of Checkout Process, enter your 16-digit Buy 30 coupon code in the Promo Code Box and select APPLY
6. A new Ticket Type will appear. This is your unlocked coupon offer with the discount pricing and taxes already applied.
6. Select offer Ticket Type Qty to 1
NOTE: For BOGO 50 and Movies for Two coupons, Qty 1 = 2 tickets
7. If movie format selected is a premium experience, your total price will include applicable experience surcharges ($3-$5 per ticket)
8. Continue through rest of checkout process normally for payment and receipt of tickets.
NOTE: If coupon offer redeemed included concessions, this is also included in your ticket confirmation. Simply show your ticket confirmation to a cast member at the Box Office or Concession at your local Landmark Cinemas to receive these items.
I entered my admission code at LandmarkCinemas.com and it's not working. What do I do?
We recommend double-checking the following:
1. Did you enter your code in Step 1's Promo Code box at LandmarkCinemas.com and hit APPLY?
2. Was the offer code entered in Step 1 a full 16-digits in length?
3. Once you applied the offer code in Step 1, was the Ticket Type selected the offer option (ex. BOGO 50, Movies for Two, Kid's Pack) or was it General? You'll want to select the offer Ticket Type.
4. Did you select a movie showtime between January 6 - December 31, 2021? If you selected a showtime before or after these dates, the offer will not work as it is no longer valid.
If you've worked through these steps and would like some additional guidance, our Guest Services team is here to help. Simply click here to contact them.
I redeemed a Buy 30 coupon and the total at checkout was more than what is listed on the coupon offer. Why is this?
The price listed on your Buy 30 coupon offer is the price before tax. Your checkout total includes applicable taxes. Also, if you selected a movie in a premium format (ex. RealD 3D, Laser Ultra, IMAX®, etc.), there is an additional experience charge per ticket. This will be applied to your checkout total.
We also recommend checking that the Ticket Type selected is the offer one (and not General, Senior, Child). If the correct Ticket Type is not selected, you are not receiving the offer.
How do I redeem my Buy 30 coupons at my local Landmark?
Show or give your coupon(s) to a cast member at the Box Office or Concession, prior to placing your order