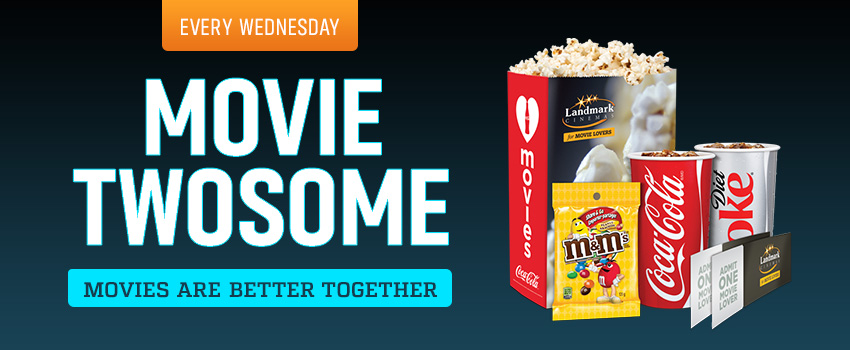 Movie Twosome - Every Wednesday
Wednesdays are made for Movie Twosomes!
You don't need to be Jack & Rose, Han & Chewie, Mr. & Mrs. Smith or even Miss Piggy & Kermit to get 2 admissions, 2 medium fountain drinks, a large popcorn (with FREE refill*) and your choice of candy for one great, low price.
But you will need to call your bestie, hook-up a date night, text your sister or invite Mom because this deal is worth sharing! Landmark Cinemas' Movie Twosome - every Wednesday. Check your favourite Landmark Cinemas for showtimes.
TERMS AND CONDITIONS: Surcharges for RealD 3D, EXTRA, XTREME, and IMAX® apply. Butter, upsizes, and add-ons at additional cost to guest. *Free Refills not valid for Marketplace locations including Kanata. Additional restrictions may apply. Subject to change and/or cancellation without notice pursuant to studio terms and conditions.
Applicable Locations