Henry Golding doesn't consider Snake Eyes to be a superhero film
Henry Golding insists 'Snake Eyes' is "not a superhero film".
The 34-year-old actor plays the lead role in the 'G.I. Joe' spin-off and Henry revealed he wants the project to be considered as an action flick.
Asked if there was anything he wanted fans to know about the movie, the 'Crazy Rich Asians' star said: "I think just to be sort of open and excited about the fact that we're making an action film. It's not a superhero film.
"People need to understand that these characters, the 'G.I. Joe' universe, are normal people with extraordinary skills and who have dedicated their lives to it. So even the action is so much more grounded in reality."
Henry also suggested the upcoming movie could be compared to the 'Mission: Impossible' franchise, in which Tom Cruise stars as agent Ethan Hunt.
He told Collider: "Somebody explained it fantastically. They're like, it felt like a 'Mission: Impossible' movie. Sort of the expanse and the largeness of it all and the world that we're filming in, especially in Japan, it feels so kind of grounded and like we're being sucked into a reality. That's really, really not hard to believe."
The movie serves as an origin story for Henry's character and he suggested there could be a lot more to come in the future.
Henry explained: "Let's say the entire reason for this movie is to go back to the origin, back to the start, the man before the mask, the man before the morals, the decisions, the hardships. How did he get to become Snake Eyes?
"And along that journey, he meets a lot of people. But again, this being the first movie of potentially many, it is early days just yet. I'm going to leave it at that."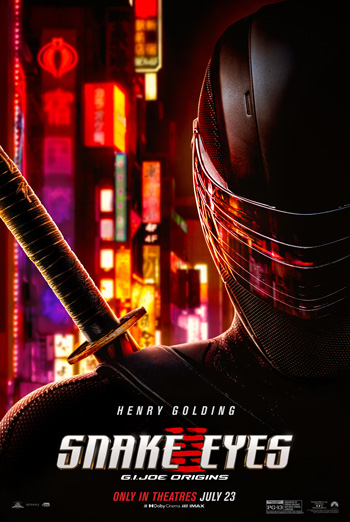 121 min | Action
Snake Eyes: G.I. Joe Origins stars Henry Golding as Snake Eyes, a tenacious loner who is welcomed into an ancient Japanese clan called the Arashikage after saving the life of their heir apparent. Upon arrival in Japan, the Arashikage teach Snake Eyes the ways of the ninja warrior while also providing something he's been longing for: a home. But, when secrets from his past are revealed, Snake Eyes' honor and allegiance will be tested – even if that means losing the trust of those closest to him. Based on the iconic G.I. Joe character, Snake Eyes: G.I. Joe Origins also stars Andrew Koji as Storm Shadow, Úrsula Corberó as The Baroness, Samara Weaving as Scarlett, Haruka Abe as Akiko, Tahehiro Hira as Kenta and Iko Uwais as Hard Master. ...
watch trailer