Tom Hanks thinks News of the World could be last of its kind on big screen
Tom Hanks has claimed 'News of the World' could be the last mature film on the "big screen".
The 64-year-old actor - who plays a Civil War veteran in the upcoming western drama - has opened up on the impact of the coronavirus on the film industry, and how the pandemic might change people's habits.
He told Collider: "'News of the World' might be the last adult movie about people saying interesting things that's going to play on a big screen somewhere.
"Because after this, in order to guarantee that people are going to show up again, we're going to have the Marvel Universe and all sorts of franchise movies.
"And some of those movies are great. You want to see them writ large because actually watching them at home on your couch might diminish them somewhere, somehow in their visual punch."
However, Hanks suggested the state of the industry has been slowly changing for a while, but there will be some films which audiences will "flock to" because they need to be viewed in cinemas.
He added: "But the sea change that has been brought by COVID-19 has been a slow train coming.
"I think there'll be an awful lot of movies that will only be streamed and it will be fine to see them that way because they're built and made and constructed for somebody's pretty good widescreen TV at their home.
"There will be other movies that are going to be playing in that window. People will, in fact, I think, flock to them in order to see them on the big screen while they have the chance.
"But without a doubt we are actually into the big curve of change that I think has been due ever since people first had the ability to pay for video on demand, although you could argue ever since the VHS cassette tape was introduced in a cheap way, this has been across the horizon."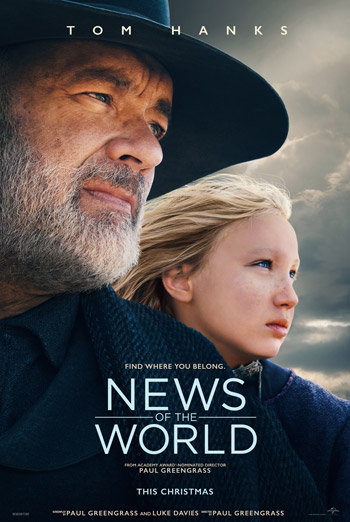 118 min | Drama
Five years after the end of the Civil War, Captain Jefferson Kyle Kidd (Hanks), a veteran of three wars, now moves from town to town as a non-fiction storyteller, sharing the news of presidents and queens, glorious feuds, devastating catastrophes, and gripping adventures from the far reaches of the globe. In the plains of Texas, he crosses paths with Johanna (Helena Zengel, System Crasher), a 10-year-old taken in by the Kiowa people six years earlier and raised as one of their own. Johanna, hostile to a world she's never experienced, is being returned to her biological aunt and uncle against her will. Kidd agrees to deliver the child where the law says she belongs. As they travel hundreds of miles into the unforgiving wilderness, the two will face tremendous challenges of both human and natural forces as they search for a place that either can call home. ...
watch trailer