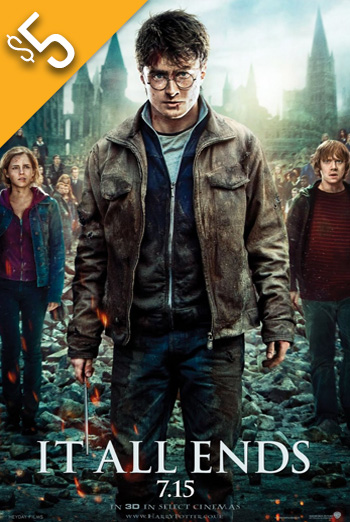 In Theatres Oct 20 2018
Duration 130 mins

Welcome Back, Movie Lovers! This movie is part of our $5 Movie Deal Line-Up. See it in any available format for just $5.00 (tax included) every day and $2.99 on Tuesdays. Limited time only offer.
A clash between good and evil awaits as young Harry (Daniel Radcliffe), Ron (Rupert Grint) and Hermione (Emma Watson) prepare for a final battle against Lord Voldemort (Ralph Fiennes). Harry has grown into a steely lad on a mission to rid the world of evil. The friends must search for the Horcruxes that keep the dastardly wizard immortal. Harry and Voldemort meet at Hogwarts Castle for an epic showdown where the forces of darkness may finally meet their match.