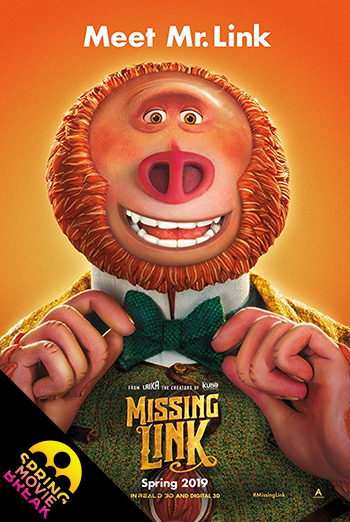 In Theatres Mar 13 2020
Duration 94 mins

Movie-going that does some good! Catch this great movie for just $3. From each ticket purchased $1 goes to support Kids Help Phone! Plus, when you purchase a ticket, you will receive a coupon enabling you to purchase a Movie Twosome Any Day offer for $32.99+ applicable taxes. Coupon can be redeemed at landmarkcinemas.com and in theatres.
Meet Mr. Link: funny, sweet, and adorably literal, making him the world's most lovable legend at the heart of Missing Link. Tired of living a solitary life in the Pacific Northwest, Mr. Link recruits fearless explorer Sir Lionel Frost to guide him on a journey to find his long-lost relatives in the fabled valley of Shangri-La. Along with adventurer Adelina Fortnight, our fearless trio of explorers encounter more than their fair share of peril as they travel to the far reaches of the world to help their new friend.