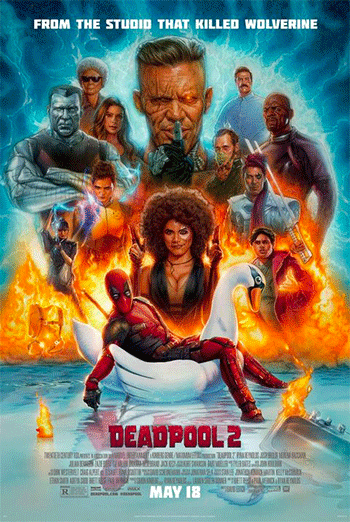 In Theatres May 18 2018
Duration 119 mins

After surviving a near fatal bovine attack, a disfigured cafeteria chef (Wade Wilson) struggles to fulfill his dream of becoming Mayberry's hottest bartender while also learning to cope with his lost sense of taste. Searching to regain his spice for life, as well as a flux capacitor, Wade must battle ninjas, the yakuza, and a pack of sexually aggressive canines, as he journeys around the world to discover the importance of family, friendship, and flavour - finding a new taste for adventure and earning the coveted coffee mug title of World's Best Lover.
Single movie experiences leaving you unfulfilled?
Well, a double dose of everyone's favorite Merc with a Mouth is sure to be the kick in the solar plexus that you need to get an early jump on 'Pool Season! Hold on to your chimis (and your changas), because for one night only you can relive the magic of Deadpool's first spectacular solo adventure, then be among the first to witness his second coming in Deadpool 2!