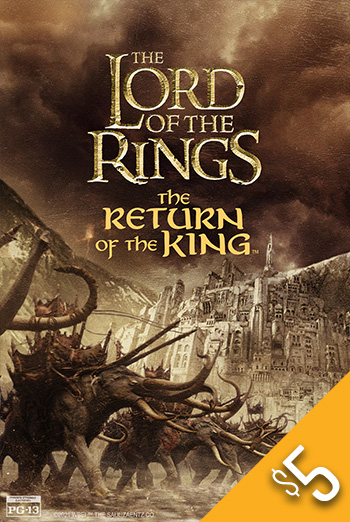 In Theatres Dec 17 2003
Duration 201 mins

Welcome Back, Movie Lovers! This movie is part of our $5 Movie Deal Line-Up. See it in any available format for just $5.00 (tax included) every day and $2.99 on Tuesdays. Limited time only offer.
"One ring to rule them all. One ring to find them. One ring to bring them all and in the darkness bind them."
In the conclusion of J.R.R. Tolkien's epic masterpiece, The Lord of the Rings, as armies mass for a final battle that will decide the fate of the world--and powerful, ancient forces of Light and Dark compete to determine the outcome--one member of the Fellowship of the Ring is revealed as the noble heir to the throne of the Kings of Men. Yet, the sole hope for triumph over evil lies with a brave hobbit, Frodo, who, accompanied only by his loyal friend Sam and the hideous, wretched Gollum, ventures deep into the very dark heart of Mordor on his seemingly impossible quest to destroy the Ring of Power. Winner of 11 Academy Awards including Best Picture and Best Director! The film ties with Titanic and Ben-Hur for the most Oscars ever won by a single film and took awards in every category for which it was nominated. Academy Awards: Best Picture Best Director (Peter Jackson) Best Writing (Adapted Screenplay) Best Art Direction Best Costume Design Best Film Editing Best Makeup Best Music (Score) Best Song (Song) Best Sound Best Visual Effects Golden Globe Awards: Best Motion Picture - Drama Best Director - Motion Picture (Peter Jackson) Best Original Score (Howard Shore) Best Original Song (Howard Shore) National Board of Review: Best Acting Ensemble.